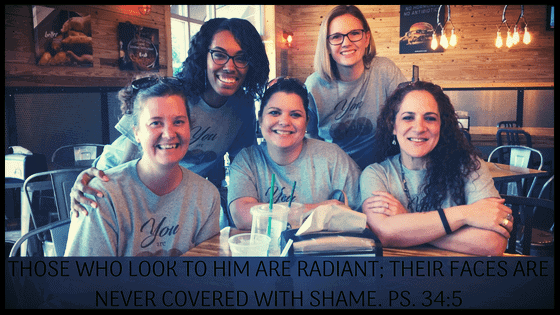 Summer 2018 is Starting Off Strong!!
Our heart at The Priceless Journey is that every person who reads our books, goes to our website, or hears us at a conference will leave feeling freer, shining more radiant and walking further out of the shame that may be covering their faces!! The picture above is our leaders after our second conference:
– Embracing YOUR Priceless Journey –
June 9, 2018
It was an incredible time and the Lord moved through the many testimonies that were shared!! Please see more pictures from that day below!!

                
                           
We had so many share how they left feeling freer and the shame that cloaked them was coming off… what a gift it's been to watch God release these lives from the enemy's grip as they press into Jesus and realize who they are in Him…truly priceless!! It reminds me of Isaiah 61:2a which says,
"He has sent me to tell those who mourn that the
time of the Lord's favor has come."
 What an absolute privilege it is to behold and be apart
of what God is doing as we continue to say "yes"!
_________________________________________________________________________________________________________________________________________________
Please see other exciting developments below:
God is bringing our leadership team together. (From the left in the top picture)
Sarah- President/Co-founder
Ivory- VP
Kim- Director of Events
Jenny- Priceless Gems (Volunteer) Director
Rea- Social Media/Intercessory Prayer Director
-We continue to receive letters from prison inmates whose hearts and lives are being transformed.
-We've had different opportunities to share the devotional and women in the church are being radically changed by the testimonies within the devotional.
-We are putting together a portfolio to be presented in D.C. so that our books can go into every federal institution without needing approval!! (If you've been blessed by the book will you go here to share your testimony so we can use it in this portfolio?)
-We are in the process of working with our local prisons and jails so we can start doing the conference for the inmates.
-We had the opportunity to have our books given out at The Pro-Life Women's Conference! (Would you like to donate to help with this gift? Please click here!)
-Our Minnesota and Spanish editions are coming along well and we hope to offer them to you soon!!
-God continues to send us incredible ministry partners that we are linking arms with to reach more people for Jesus.
-Our ministry launch gala is happening on August 11th from 4:30-7:30 on Yacht Starship Cruise! To meet the leaders, some of the women inside of the book, and to hear more about what God is doing please click here to get tickets!
-Sarah has some incredible speaking opportunities this summer one including a panel at Biola University in Los Angeles, CA!
-The first testimony we shared with the 700 Club has aired. Here is a link to it if you want to watch it…Christa's testimony is called You Are Priceless in the book and it was the one that inspired the title of the book. Click here to watch it.
-Rotary Clubs have been reaching out to have our President, Sarah speak about The Priceless Journey. Please pray that this will be a great connection and that we will gain donor support through this for our ongoing ministry needs.
We appreciate your prayers with each of these exciting updates!!
Would you like to support one of these opportunities? Please click here to give!
https://thepricelessjourney.org/wp-content/uploads/2018/06/Event-Pic-from-Newsletter-Summer-2018.png
315
560
Ivory
https://thepricelessjourney.org/wp-content/uploads/2021/11/priceless-journey-2021.png
Ivory
2018-06-25 16:54:56
2018-06-25 16:54:56
Summer 2018 Update!!