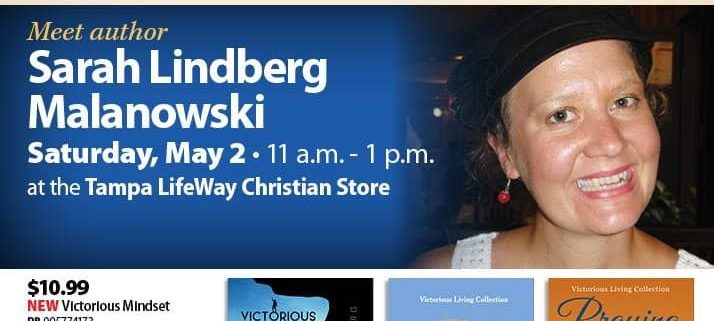 But in your hearts set Christ apart as holy [and acknowledge Him] as Lord. Always be ready to give a logical defense to anyone who asks you to account for the hope that is in you, but do it courteously and respectfully. (1 Peter 3:15, AMP)
Last week, I was given an opportunity to put my words in to practice, as Satan came charging in to ruin my day.  I had spent most of the day promoting the book signing that will be held tomorrow.  You see that's not really my favorite thing to do.  The marketing part of writing does not come easy for me.   I love the writing part.  I love being a part of watching lives change by the power of God's Word.  I love to encourage people.  But the marketing and selling of myself, yikes… that's just not me!  But I have told myself if I ever made it to LifeWay I would put all my energy in to really promoting the book signing.  So I've promoted it everywhere.
It's not because I think I'm anything special.  It's because of who God is and what He is doing.  These books that I write are His.  He gave me the ideas.  He gave me the ability to write.  He has given me the time to write.  Everything is His!  I would not be able to write a single page in one of these books without God's loving guidance.  I depend on Him to guide me and to bring His Word to life through every penned word in these books.  Thank you God for giving me the opportunity to advance Your Kingdom purpose through these books!
Well, after a day of promoting and only a couple more stops to make.  I had just left LifeWay Christian Bookstore.  I was thrilled about what God was doing and hearing the excitement of those in the store.  I took a few pictures of my poster on the door and was just gliding on this beautiful thing that God is doing.  Well, just short of five minutes down the road.  I stopped at a stoplight and what happened next scared me pretty good.  This huge sound, I'm pretty sure like the sound of a bullet hit my car.  It startled me and all of a sudden I was pretty shaken up.  Someone in the lane over got out and said I needed to pull over.  So I turned on to the next road, got out and had a look at the car.  There I saw a hole right through the door and two pretty good size dents in my car.
The only possible explanation for this was the lawn mower that had gone by while I was at the light.  I called my husband and let him know what happened.  At this point I wasn't sure what hit my door but I knew I needed to track down the lawn guy.  The whole time I was walking to let the guy know, I kept telling myself "this isn't worth my testimony".  I needed to calm down quick and get my sanity together.  No matter how much the sound startled me and what it would look like to fix this, I needed to collect myself quickly.
The guy (Keith) on the lawnmower was taken by surprise when I approached him with the news and quickly called his supervisor.  I reassured him that I knew it wasn't his fault as he profusely apologized for what happened.  He mentioned to me several times that in his 10 plus years of landscaping he has never had anything like this happen.  I was still pretty frazzled at this point but kept telling myself to guard my testimony.  Nothing, and I do mean absolutely nothing is worth getting so worked up about that I lose the testimony God has given me.
My testimony cost Jesus Christ His life.  He died a cruel death on the cross for me.  Everything He went through was costly.  There was nothing cheap about it.  But don't I cheapen the work of the cross when I become angry or volatile to someone I meet.  Isn't it possible that I downgrade my testimony when I become even a tiny bit negative towards someone.  You see, that bolt that came flying at my door could have cost me my testimony.  I could have gotten out of the car ready to make Keith pay for his mistake.  But that would show a lack of my understanding of what Christ did for me.  Jesus died that I might be free of my sins.  Free from a life in Hell.  Jesus died to give me life!  I can't not even for a second cheapen the work that He did.
So the next time something takes you by surprise, the next time someone hurts you, or the next time you find your character called in to question…  ask yourself this question…  "Is it worth my testimony?"  Your reaction to whatever comes your way can be guarded by this simple thought.  You never have to cheapen the work of the cross by giving in to an emotional response to a situation.  You can rise above it!  Jesus Christ showed us how it's done over and over again in the Gospels.  Let's be keepers of our testimonies.  Let's guard the work that Jesus did on the cross!  May we remember that our testimony cost one man everything!  And nothing, absolutely nothing is worth losing our testimony over.
"Do your best to present yourself to God as one approved, a workman who does not need to be ashamed and who correctly handles the word of truth." (2 Timothy 2:15)
Dear Father God, thank you for helping me guard my testimony.  Wow, how often my sinful nature rises up ready to defend myself and sometimes even attack because of how I feel.  Lord, thank you that you show me grace through these times and have helped me become a better keeper of my testimony.  May I never cheapen the work your Son did on the cross.  May I live out my testimony well even when it's put through the fires of life!  
Living for Jesus,
https://thepricelessjourney.org/wp-content/uploads/2015/09/11159521_369567696579261_7148323432432675697_n-e1441640511704.jpg
478
714
Sarah
https://thepricelessjourney.org/wp-content/uploads/2021/11/priceless-journey-2021.png
Sarah
2015-05-01 09:00:24
2015-11-08 14:33:44
Is it Worth My Testimony