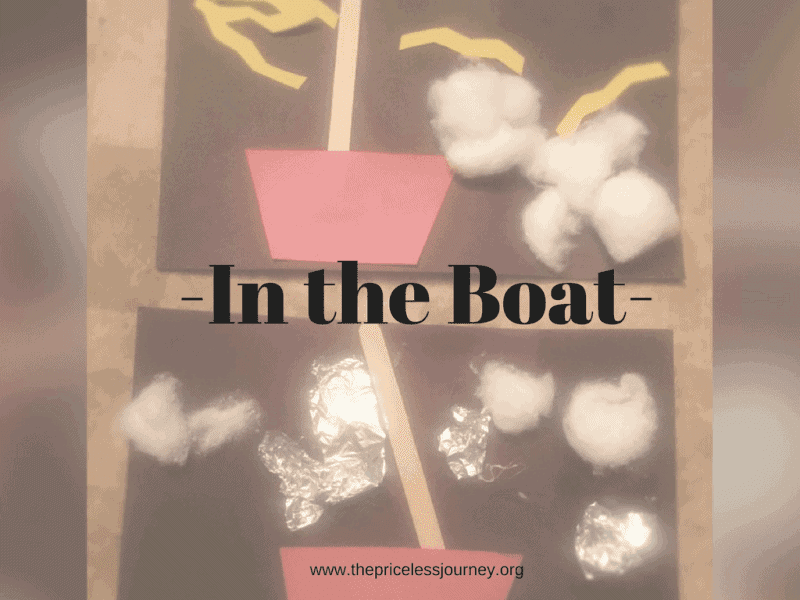 When He got into the boat, His disciples followed Him. 24 And suddenly a violent storm arose on the sea, so that the boat was being covered by the waves; but Jesus was sleeping. 25 And the disciples went and woke Him, saying, "Lord, save us, we are going to die!" 26 He said to them, "Why are you afraid, you men of little faith?" Then He got up and rebuked the winds and the sea, and there was [at once] a great and wonderful calm [a perfect peacefulness]. Matthew 8:23-26
It was Sunday morning, my first service back to church since my hysterectomy 2 weeks prior. Issues from a long battle with endometriosis led me to that end, but I'll share more about that another time. {wink}
After service, as a family, we discuss what was spoken about in our classes and in our worship services. It's always a fun time to look through the kid's crafts and read over their papers from the week and share with them what we learned in "big church" and how God spoke to our hearts and into our lives. Each of them had talked about the account from the above text in Matthew 8. When Jesus was knocked out during a storm with His disciples. (This blog post's picture is the crafts that they made.)
We talked about how sometimes it can be so scary when it is storming here and how they can violently wake us up while we are lying still, cozy and comfy in our beds!! And how there no waves or water we have to deal with, but how even in the midst, that it didn't faze our Lord, because after-all He created it. He is in charge and all-powerful. We continued sharing about what a blessing it is to never have to be scared of anything and even if there are scary things going on around us- we don't have to be afraid- because in the boat of life, Jesus is always in it with us.
Well, I didn't think much of it after that, and was thankful for the truth but not clinging onto it for any particular reason.
The next day, I was having some small complications from the surgery but nothing serious so I called the doctor on call to ask her about it (because of course this happened on a holiday). I had stood a little more that Sunday with it being New Year's and all. So I thought maybe that was what was causing some of the issues. The doctor told me to stay off my feet and rest and as the evening came I decided to finish setting up my prayer closet and after I got finished I prayed and spent some time with the Lord and boy, it was so sweet.  But as I got up I felt something and to my surprise things had worsened… I told my husband and decided to call the doctor again. Within about 15 minutes I headed up stairs to only find that it had intensified to the point where it was alarming. The doctor gave me a solution to see if we could deal with it, but in the next hour we were headed to the ER.
On the way, we contacted our family, friends and church family asking them to start praying. Immediately what came to mind was that Jesus was right there with me- HE was in the boat with me. I couldn't do a thing but cling to that fact. What was happening to me could have severe consequences, but I didn't have to fear because I wasn't alone. So through tears, I just kept repeating to myself, Jesus, You're in the boat. Jesus, You control the winds and the waves of what is happening. Jesus, You can make it stop at any time. Jesus, because You're with me I don't have to be afraid.
There are times in life when we can choose to panic and fear or trust that Jesus is in the boat and experience the peace that only He can bring. Will it be terrifying? It could be. Was I concerned? YES!!!! But did I have peace? Whew, like you wouldn't believe. Because I was clinging to the fact that He was in the boat and it changed my focus. After all, I'm His daughter, He's my Abba-Father and because of that even in a situation like this, I couldn't be in better hands.
Do I always do that? Respond with this confident faith? No, but I'm learning to trust this truth.
I'm not sure what you may be facing in life today or in this season of your life, but can I encourage you that Jesus is in the boat with you? He doesn't want you to be worried, afraid, fretful, fearful, but completely at peace, full of faith, resting totally in Him no matter what may be going on around you because at any point He can stop it with just a word. He doesn't always choose to though because He knows the good that is going to work in and through it, and praise the Lord that He's able to work all things together for our good, hallelujah?!
Praise the Lord, this surgery complication happens sometimes and for many different reasons. And recovery has been much smoother since then, but boy was it a nerve wrecking. Maybe it was just so I could write pen these words and encourage you that He's in the boat with us. That He's never left you or me alone and that His love, His hope, His peace is undeniably ours.
Lord, for those reading this today, may this truth sink deep into their hearts, as I ask for You to help it sink into my own. May we be people of faith that trust whole-heartedly that no matter what– You are in the boat right beside us– no matter what we're facing. And even if it seems like You're asleep, unaware of what we are facing. I pray that you will help us to confess for doubting Your presence and Your Word and trust that You are with us in ways we won't be able to fully comprehend until we are with You and we are like You in eternity. Help us, Lord, to fully know that just like you did with your disciples, you can do with us and in a moment bring peace that passes all understanding even amidst the crazy, scary, or unexplainable to us. I pray all of this in the Name of Jesus, Amen.
Because of Christ and His Love,


https://thepricelessjourney.org/wp-content/uploads/2018/01/In-the-Boat-e1517374623123.png
600
800
Ivory
https://thepricelessjourney.org/wp-content/uploads/2021/11/priceless-journey-2021.png
Ivory
2018-01-31 00:02:03
2018-01-31 00:04:28
In the Boat