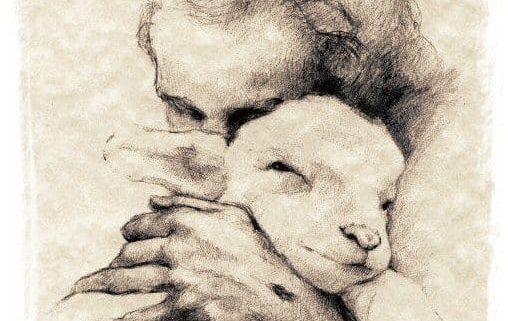 Then Jesus told him, "Because you have seen me, you have believed; blessed are those who have not seen and yet have believed." (John 20:29)

This devotional is part 2 from yesterday.  Here is a link to the first part, if you missed it What about the Nails?
Do you know that Scripture never says if Thomas was able to touch the hands of the Savior or touch His side?  It was enough for him to hear the voice of his Savior and see the One who taught him how to truly live!  Yes, those scars are there and Jesus was willing to show them.  Maybe it was never about the scars.  Maybe it was about something more.  I believe Thomas wanted to see his Savior again.  The One who led him for three years.  The One who taught him so much.  Let's follow the exchange between Jesus and Thomas, maybe we can learn a little more.
"A week later his disciples were in the house again, and Thomas was with them." (John 20:26)

Wow!  A week later, I'm guessing this felt like forever for Thomas.  The other disciples had already seen Jesus, but Thomas was waiting to be reassured that Jesus was indeed risen.  Yes, the tomb was empty, but Thomas needed to see Jesus for himself.  One whole week.  Does it ever seem like you are waiting on God?  His timing is never our timing, yet He is always on time!  The next time you feel like you have been waiting for too long, wait a little longer.  God will come through, He's not in the business of failing.  He's in the business of being faithful!  He shows up, just like Jesus did when Thomas needed Him too.
Though the doors were locked, Jesus came and stood among them and said, "Peace be with you!" (John 20:26)

I don't think this will ever stop amazing me.  The door was not open, but Jesus found a way in.  Scripture does not reveal how Jesus found His way into the room.  All we know is that the door was locked and the next thing we know is Jesus was standing among the disciples.  The imagination can do the rest.  There is no magic involved.  Jesus doesn't need magic.  He is God.  He has the ability to get through the impossible, so please don't let the impossible keep you from serving God.  Jesus has proved the impossible doesn't stop Him from getting to you!
Then he said to Thomas, "Put your finger here; see my hands. Reach out your hand and put it into my side.  Stop doubting and believe." (John 20:27)

This passage of Scripture continues to amaze me.  Jesus knew what Thomas was feeling.  He hadn't heard about it through the grapevine.  He knew the heart of Thomas.  He spoke directly to Thomas.  Jesus makes things personal.  He didn't reprimand Thomas for questioning His resurrection or wonder where his faith was.  He simply gave him the reassurance he needed.  Over and over again the Bible shares it's okay to be honest.  God treasures the hearts of His people and their honesty before Him.
Thomas said to him, "My Lord and my God!" Then Jesus told him, "Because you have seen me, you have believed; blessed are those who have not seen and yet have believed." (John 20:28-29)

It was that simple.  Thomas just needed to see his Lord and Savior.  Scripture never says he reached out to touch Him, but it is clear that he saw Him.  He experienced Jesus.  Who in your life needs to experience Jesus?  Many people will only experience Jesus through your friendship, actions, and words.  What are your actions and words speaking?  Will people come to know Jesus this year through the life that you live?
Dear Father God, I pray that those who are on my heart will receive salvation this year.  It is so important to me that people come to know who my Savior is.  It's the one thing that matters most!  I pray daily for my two brothers (Caleb & Bart) and right now I lift them to You again.  May their hearts be in Your hands.  Please continue to guide me in the words to speak to them and send people there way to help them see who You are.  May this be the year they turn their lives to You!
Simply Yours,
https://thepricelessjourney.org/wp-content/uploads/2014/04/Jesus_Lamb3.jpg
613
508
Sarah
https://thepricelessjourney.org/wp-content/uploads/2021/11/priceless-journey-2021.png
Sarah
2014-04-22 09:00:33
2018-01-27 12:34:08
Experiencing Jesus